Over the years, Frøydis has played concerts and contributed to recordings with countless artists from Norway and abroad. In addition, she also appears in a number of groups and collaborations, which this page seeks to give an overview of. With most of them she has been in the recording studios, while some have only been available live.
Frøydis Grorud Quartet
"In this musical pot we find ingredients from classical music, jazz, soul, gospel and folk from both Brazil and our own country. All together, it has become both beautiful and strong. A great invitation to something to come and a beautiful goodbye to a good friend. " Tor Hammerø – Nettavisen, April 2020.
"What about some jazz? It's a genre that doesn't produce many music videos, so it is always nice to highlight new growth in the field. Like this song by Frøydis Grorud […]". Arvid Skancke-Knutsen – Ballade.no, April 2020.
"The music academy educated Grorud is a distinctive jazz saxophonist and flute player with a strong lyrical and melodic expression. In the autumn (of 2012 ed.), she released her album album "Melting sound" (produced by Bugge Wesseltoft) to overwhelming criticism. The music finds itself in the borderland between modern lyrical jazz, classical music and folk music, and the moods range from the utmost glass-clear to the hefty, vibrant and improvisational." Victoria – Nasjonal Jazzscene 2013.
Frøydis Grorud and Trude Kristin Klæboe
The duo, which consists of Frøydis Grorud (saxophone and flute) and Trude Kristin Klæboe (vocals and piano), are two ladies who complement each other perfectly in musical harmony. They play and literally -improvise- their way through the most beautiful songs you can imagine, both with and without vocals.
Together they have made their mark not only at closed events, weddings and funerals, they have also lit up major music festivals and events with their musical and personal presence. The duo has also been touring with Trygve Skaug, and has a solid collaboration with Christian Ingebrigtsen, well-known from the British-Norwegian band a1.
The duo is back in the spotlight again, as they have recently recorded their second album, with guest musician Per Einar Watle. The album will be released late summer 2020. The music video to the right gives a quick taste of the album.
The Original Beat for Beat Band
For 20 years, the Original Beat for Beat band has brightened up memorable Friday nights, and soon the band, accompanied by amazing vocalists Julie Dahle Aagård and Odd René Andersen, will be touring Norway. The band plays classics and new songs in their very own way.
Alongside Frøydis on saxophone and flute, the band consists of bassist Erik Anti, drummer Ole Petter Hansen Chylie, pianist and organist Trond Lien, and new guitarist Per "Persen" Einar Watle.
Like and follow the band on Facebook!
Vintermåne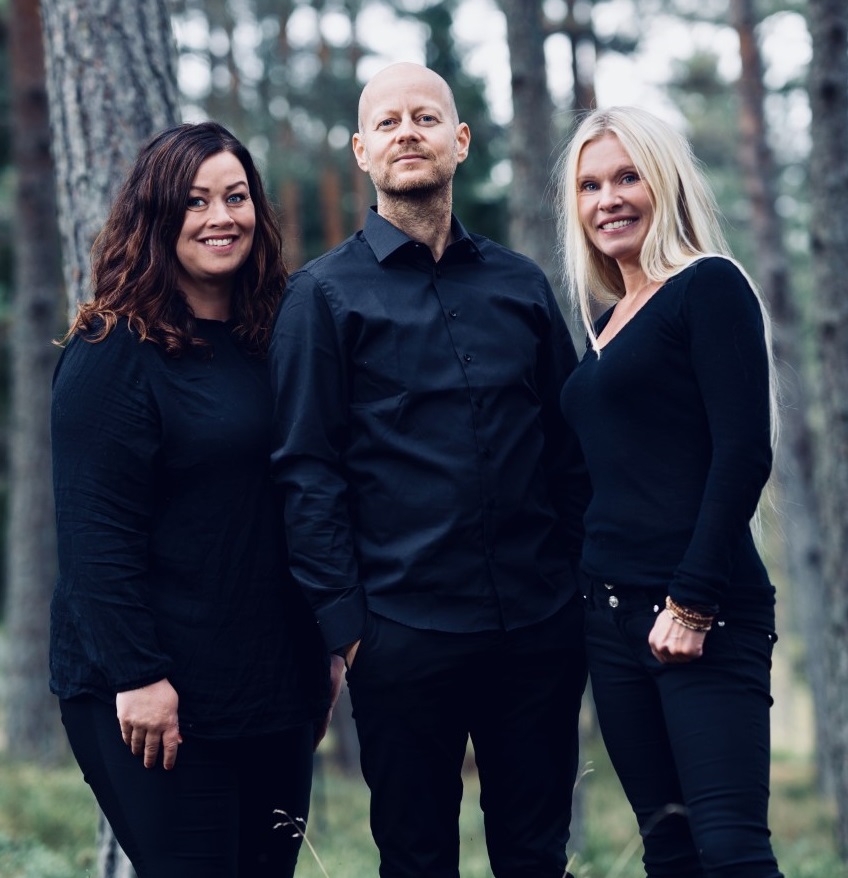 Vintermåne (established 1997) is a Norwegian folk music group, consisting of Anne Gravir Klykken, vocalist, Frøydis Grorud on saxophones and flute, and Torjus Vierli on piano and synthesiser. Vintermåne finds its repertoire in Norwegian folk music, especially from Telemark county. The repertoire includes hymns, Christmas songs, religious and more traditional folk tones. Vintermåne has collaborated with musicians such as Odd Nordstoga and Knut Buen, and is happy to include several instruments at their concerts.
Vintermåne has had a tradition of annual concerts in the pre-Christmas period, in addition to other events, and the trio has so far released four albums: Vintermåne (2002), Søde julenat (2005), Skolesangboka (2009), and Sut (2018). Also, the trio has travelled on a school concert tour around the country with Skolesangboka, organised by Rikskonsertene (Den kulturelle skolesekken).
Blåsang
Frøydis Grorud and Anne Gravir Klykken have been playing together in the folk and jazz trio Vintermåne since 1997. Both are educated at the Agder Music Conservatory and the University of South-Eastern Norway, Department of Folk Culture.
Anne has released two solo albums: Husk op i ring (2000) and Jeg har vel ingen kjærere (2013). She has also published four albums with Vintermåne and several releases in collaboration with Iver Kleive, Knut Buen and Bugge Wesseltoft. Anne also plays in the percussion ensemble Klykken / Bjerck / Norbakken.
The Blåsang duo projectstarted as a master's thesis project in traditional art at the University of South-East Norway. In recent years, the ladies have been working on interaction, arranging, pitching and improvisation over old recordings made from 1911 (phonograph) to today. The sources are mainly tradition bearers from Telemark and Buskerud. With two melodic instruments, Blåsang takes listeners into atmospheres, descriptive musical features and a rhythmic drive that awakens associations to bygone times, while innovative elements form the basis of music design.
Blåsang is currently touring in the municipality of Drammen with the project "Folkemusikkteamet" under the auspices of Den kulturelle skolesekken.
Frøydis Grorud and Torun Eriksen
Torun and Frøydis have been playing together for almost 20 years, recording albums and contributing to each other's solo albums. Together they have played several tours in Germany, played on the big international jazz scene at North Sea Jazz in the Netherlands, had an annual Christmas concert at the jazz club Herr Nilsen in Oslo for many years, and frequently play together at various events among other places in their home county of Telemark.
"[…] Torun Eriksen's open but well-placed vocal approach to rhythm and harmonics is a true treat for the ear […]". Terje Mosnes – Jazz i Norge, about one of Torun's latest solo albums.
"[…] Torun Eriksen and Frøydis Grorud's joint project with both Christmas music as well as songs by Lars Martin Myhre, Geir Holmsen, Joni Mitchell and Torun Eriksen himself. The songs have in common that they are performed in low-key jazz and with Norwegian lyrics." NTB in Vårt Land, about their album "Sanger om glede og fred".
In previous years, Torun and Frøydis collaborated with Lars Andreas Aspesæter (pianist in Beat for Beat) in a group called Gyng.
Frøydis Grorud and Ulf Nilsen
When Frøydis plays with Ulf at the piano or the organ, classical music, jazz and folk blend together seamlessly and beautifully. Ulf's strong musicality and great hearing enable him to play so much more than just classical music, and their concerts are always an adventure and a journey through music styles.
Ulf Nilsen is known as organist, pianist and harpsichordist, educated at the Norwegian Academy of Music. Since 1996 he has been the organist at Lovisenberg Church in Oslo.
Frøydis and Ulf have recorded one album so far, called Psalmfulness (2015). It sports eleven known and beloved tunes from the Norwegian hymn book. Towards the end of 2019, they received a special invitation to the Royal Palace in connection with the Slovenian President Borut Pahor's state visit. They played for a gathering of distinguished guests, including the King, Queen, and a number of their friends and acquaintances.
On Easter 2020, they conducted an informal recording day at Lovisenberg Church, resulting in a music video playlist available on YouTube.
Trio de Janeiro
Trio de Janeiro consists of Tom Lund, Anne-Marie Giørtz and various guest musicians, including Frøydis, but also Sveinung Hovensjø, Kenneth Ekornes, and Birger Mistereggen. As always, the repertoire features elegant Brazilian bossa nova, samba and choro. It is "the typical Brazilian aroma of jagged charm and playful approximate accuracy" that gets the centre stage.
Under the musical leadership of Lund, the group quickly became popular at clubs in Oslo, and participated in a number of festivals and many appearances in radio and TV. The trio has had a number of guest artists from the beginning, and the Brazilian percussionist Celio de Varvalho has often contributed to strengthening the band's music's roots. Frøydis has been a regular part of the trio since 1998.
Frøydis Grorud and Trond Lien
Frøydis and Trond are well known to the Norwegian public from the Norwegian television's Beat for Beat programme's band, where Frøydis played saxophone and Trond the piano while he was the band leader. Each of them have also contributed to countless albums and concerts for artists such as Oslo Gospel Choir, Secret Garden, Carola, Torun Eriksen, and more, and Frøydis Grorud has had great success with her solo releases in recent years.
After having played together on TV for over a decade, they decided to make a record together: the album "Fra hjerte til hjerte", which contains "heart songs" – songs that are close to them and mean a lot to them personally.
In recent years, Frøydis and Trond have been regular contributors to the Julenatt Christmas tour, with dozens of concerts taking place every winter all over Norway. They have also accompanied new citizens at a number of citizenship ceremonies. In 2020 they are on tour with the Original Beat for Beat band.
Julenatt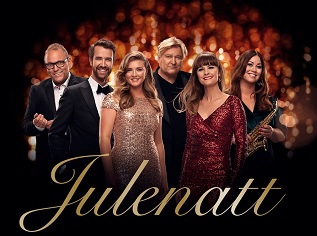 Together with Trond Lien, Frøydis has been regular contributors to the annual Christmas concert series Julenatt. Also this year, this traditional concert series will embark on an extensive tour during the pre-Christmas period. Each year, together with a number of well-known singers, they create warm Christmas atmosphere in churches across large parts of the country. For tickets, see www.julenatt.org. See also https://www.facebook.com/julenatt
Earlier Julenatt concert series:
Frøydis inviterer…
Frøydis inviterer… (Frøydis invites…) is a musical concept she started at the Drammen Theatre around 10 years ago. At that theatre, a range concerts were arranged every week over several years. Musicians, duos, trios, choirs, bands and groups visited the theatre's foyer for pleasant concerts filled with warmth and atmosphere.
Now she takes this concept further to her hometown of Skien and the Ibsenhuset, where she invites a varied range of musical guests with roots and background from Telemark county; young talents, bands, soloists and other exciting guests joining in musical and refreshing interaction!